If you are an existing customer of ours or a new exhibitor, we have gathered all information you need for your participation at Automechanika Istanbul in any case.
Automechanika Istanbul 2019 exhibition grounds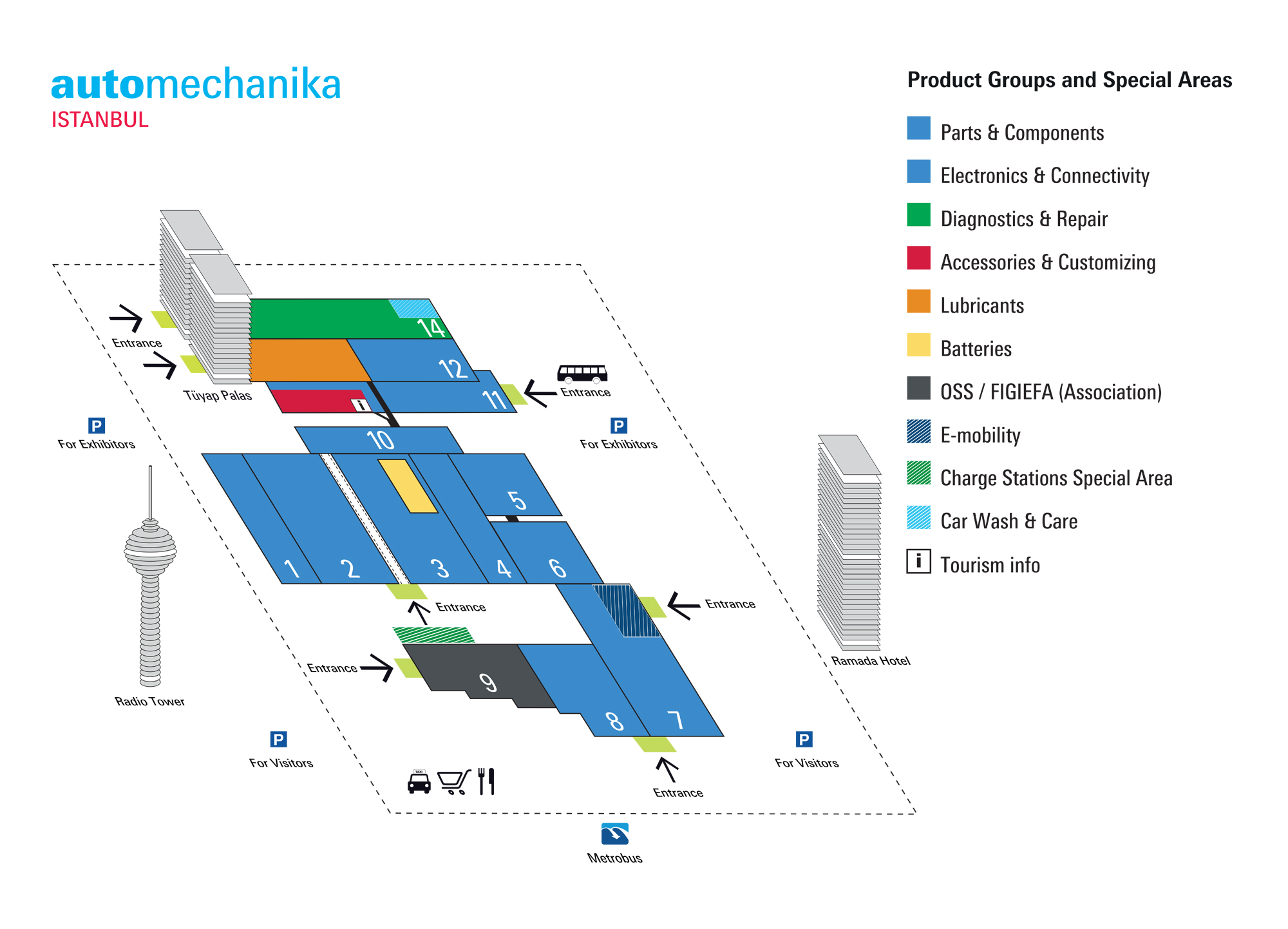 Setup and Dismantling
Schedule for stand setup and dismantling for Automechanika Istanbul 2021 will be announced soon.
Public Relations and Advertising Opportunities
Reports in the press, radio and television increase the success of your trade-fair participation. Accordingly, it is important not to neglect press and PR work before and during the fair. To this end, we offer a complete package of services comprising the following elements:
Event coordination
Please let us know if you plan to hold a press conference or other event on your exhibition stand. We will be pleased to coordinate the timing for you and, in addition, provide journalists with a list of all exhibitor events during the fair. Important: please note that you, and you alone, are responsible for planning, organising and holding your press event.


Rooms
We will be pleased to provide a room for your press event free of charge.


Press displays
we provide press displays free of charge for the presenta­tion of your corporate or product information. During the fair, we ensure that they are always kept topped up.


New products and press tour
On request, we shall be letting the press have information about new products and on the day before the trade fair opens, shall be organising a tour for photographers and journalists of the daily press.
Advertisement at the fairground
Indoor and outdoor advertisement panels, billboards and similar advertisement opportunities are available upon request.
Logistics
Our official logistics solution partner, Ekspres Lojistik will gladly provide all the service you need for your participation in Automechanika Istanbul.
Contact details:
E-mail: info@ekspreslojistik.com
Phone: +90 216 478 63 58
Address: Bagdat Caddesi, No: 167/5-6, 34730, Kadikoy, Istanbul, Turkey
For more information
Arrival and stay
Please feel free to contact our official tourism agency ITF Tour for your arrival at the venue and your accommodation during your stay in Istanbul.
Contact details:
E-mail: itftur@itftur.com
Phone: +90 212 266 10 10
Address: Oguz Sk. Bahar Apt. No:7/5, Mecidiyekoy, 34387, Istanbul, Turkey
For more information